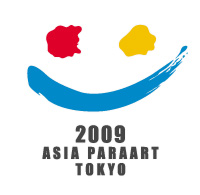 Web Site opened!
DATE/PLACE
2009 ASIA PARAART TOKYO EXHIBITION
11-16 September 2009
Sogo & Seibu Co., Ltd. IKEBUKURO FLAGSHIP STORE
organized by The Nippon Charity Kyokai Foundation
2009 Asian ParaArt TOKYO Executive Committee
GREETINGS

There are many disabled people who have special gifts and superior talents in spite of their physical or intellectual disabilities.
Once a disabled person's gifts or talents are recognized and shown to the public, their outlook on life brightens, which affects their desire to continue to improve and grow in their area of interest.
In this exhibition, you will be able to appreciate the talents of many disabled people from Japan and many other Asian countries. In the spirit of volunteerism and dedication to the disabled, the Nippon Charity Kyokai Foundation proudly presents this important event for your pleasure.
It is our hope that those who visit our exhibition will begin to understand how special the disabled are.
Thank you for coming to the 2009 Asian ParaArt TOKYO.
- Hinohara, shigeaki
---

We at the Nippon Charity Kyokai Foundation have been supporting the promotion of artistic and sporting activities for the elderly and the disabled since our establishment in 1966. It is very encouraging to know that our devotion to the art of the disabled is garnering international attention.
While the Paralympics have been recognized worldwide and see the participation of many athletes, there are no major artistic venues for the disabled. I believe that the inclusion of the disabled will become an increasingly important aspect in our lives and for future generations. Our foundation created the 2009 Asia ParaArt TOKYO Exhibition to be presented in conjunction with the Tokyo 2009 Asia Youth Para Games. This exhibition is a compilation of our past activities with the disabled and in cooperation with many organizations from both in and outside of Japan.
We are fortunate to be able to exhibit 58 works from 16 Asian countries and 120 from all over Japan. We hope that many people appreciate the talent of the artists and will further support their future activities. Through this exhibition, it is our hope that knowledge of these talented artists will spread throughout Japan and the rest of Asia.
Finally, I want to sincerely thank all the people who have given their never ending support for our exhibition.
- Takagi, kinji
WINNERS